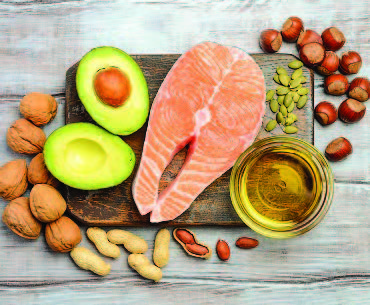 Considering Keto: Is It the Right Diet for You?
The truth is that a silver bullet for weight loss likely does not exist, but Americans' perpetual search continues unabated. Low-carb diets such as Paleo, Whole30, and most prominently, Ketogenics, or "keto" may be the latest contenders, yet Academy of Nutrition and Dietetics spokesperson Ginger Hultin, RD, reveals she's never seen a more popular – or more misunderstood – trend.
Keto's guidelines dramatically change typical eating patterns, with an emphasis on high fats (accounting for 80% of daily calories); moderate proteins (10 to 20% of daily calories); restricted carbs (5 to 10% of daily calories – ideally 20 to 30 grams a day, or the equivalent of a medium apple); and elimination of all grains, starchy vegetables and high-carb fruits. This means a diet replete with meats, butter, seeds, avocado and oily fish, but little or no bread, potatoes, corn, beans, legumes, milk, beer, sugar or fruits like bananas and pears.
The concept, according to Hultin, is that getting most of your calories from fat forces the body to enter ketosis and burn stored fats. Here's how: In the absence of circulating blood sugar, which comes from carbohydrates, the body starts breaking down stored fat into molecules called ketones via a process called ketosis. Once ketosis is reached, usually within three to four days of eating less than 20 to 50 grams of carbohydrates daily, ketones are used to generate energy in the body until carbohydrates are eaten again.
Earlier research showed ketosis has benefits for blood sugar control among people with diabetes, and its efficacy has been proven in controlling seizures in some patients with epilepsy. Most people are attracted to keto based on the promise of shedding pounds quickly, which is when the diet's drawbacks become glaringly evident.
"When followed consistently for the short term, the keto diet can lead to rapid weight loss," says Hultin. "However, when people stop following it, as is inevitable on a highly restrictive diet, the weight is just as quickly regained, plus more."
Side effects of a keto diet range from constipation due to lack of fiber to a potential negative impact on liver and kidney function, and limiting vitamin- and mineral-rich fruits, vegetables and grains is a concern for sustaining heart health. Hultin believes keto's limited choices can also be socially isolating to dieters.
"The keto diet may be a quick fix but is not a sustainable solution," she says.
There is no debate around the life-changing aspects of the keto diet for young patients with epilepsy, but experts agree that the long-term effects on others warrant further research before recommendations can be made. For those still interested in trying keto, a focus on healthier fats is essential, rather than options such as bacon and cheese. Additionally, be sure to test and monitor your blood cholesterol levels, as studies show many keto dieters experience an unwanted increase in these numbers.
Other trendy diets may fare no better in terms of sustainability. Whole30 takes a deliberately short-term approach with a 30-day plan that eliminates all sugar, alcohol, grains, legumes and dairy and focuses on moderate amounts of meat, seafood and eggs; plenty of vegetables; some fruit; and natural fats. Most people return to their previous eating habits after the monthlong experiment, according to Mayo Clinic. A paleo diet focuses on foods that were hunted and gathered during the Paleolithic era, and typically includes lean meats, fruits, vegetables and nuts, but eliminates whole grains, legumes and dairy products, making it challenging to adopt long-term.
The ideal diet? One that places the greatest emphasis on nature's bounty of fruits and vegetables; encourages whole foods, whole grains, healthy oils, moderate amounts of protein, and does not eliminate entire categories of food.
"Find a diet that's flexible enough to let you feel good about your relationship with food … and enjoy your life!" advises Hultin.
Did You Know?
Because fasting can put a person into ketosis, intermittent fasting can also be considered a type of ketogenic diet.
The post Keto Diet: Right for You? appeared first on Specialdocs Consultants.