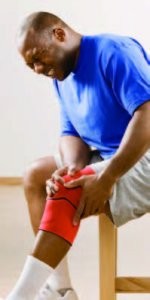 The aching, swollen, stiff joints associated with osteoarthritis (OA) have long been considered an inexorable result of aging. According to conventional wisdom, cartilage, the smooth connective tissue on the end of bones that cushion the joints, simply breaks down over a lifetime of walking, exercising and moving, allowing the bones to rub together. When medications and physical therapy no longer provide relief, a costly and time-intensive mechanical joint replacement may be the only solution. However, advances in research and a focus on prevention are providing
a new outlook on an ageold problem…we bring you the latest insights, below.
Prevention
The connection between overweight and OA is even stronger than previously thought. Recent studies show that up to 65 percent of cases of OA of the knee could be avoided if weight was reduced. Consider that your knees bear a force equivalent to three to six times your body weight with each step, so a lighter weight relieves the burden considerably. For women, extra weight is even more of a risk factor than men. In addition, fat tissue produces proteins called cytokines that cause inflammation, and in the joints, this can alter the function of cartilage cells.  Gaining weight results in your body releasing more of  these harmful proteins. However, losing even a few pounds can reduce joint stress and inflammation and decrease by half the risk of OA.
Avoid practicing a sport in an intensive and prolonged way. An injured joint is nearly seven times more likely to develop arthritis than one that was never injured. The condition is now seen more frequently among 30 to 50-year-olds than previously because young athletes or middle-aged 'weekend warriors' who tear their anterior cruciate ligament (ACL) or menisci of the knee have a much higher risk of osteoarthritis 10 to 20 years after their injury. Take steps to manage or prevent diabetes, which may be a significant risk factor for OA. Some studies suggest high glucose levels trigger the formation of molecules that make cartilage stiffer and less resistant to stress, and cause inflammation that leads to cartilage loss.
Management
Low impact exercise is key to living well with osteoarthritis. While resting aching joints can bring temporary relief, lack of movement will ultimately lead to more discomfort.
Exercise strengthens the muscles around the joint, acting like a shock absorber, helping to reduce pain. In addition, exercise helps with weight control and is a natural mood elevator. Experts recommend low-impact activities like swimming, walking, biking, and moderate weight lifting. The Arthritis Foundation developed a form of tai chi specifically for people with arthritis,
featuring agile steps and a high stance, that helps increase flexibility and improve muscle strength inthe lower body.
Some new approaches to pain management show promise, but beware of unsubstantiated claims. Platelet-rich plasma (PRP) injections, which involve withdrawing blood, spinning
it to separate the platelets and then injecting the concentrated platelets into a joint, are being studied for long-term effectiveness.  Experts advise against costly supplements such as glucosamine, chondroitin and shark cartilage, all of which have proven of little benefit for people with OA. Some elements of Chinese medicine, including herbs and acupuncture, may help control OA symptoms in some people, but these therapies have not yet been confirmed in large, well-designed clinical studies. Also unproven are low-power laser light, copper bracelets or magnets, chiropractic manipulation and acupressure. The most effective over the counter medication are NSAIDs (non-steroidal anti-inflammatory drugs such as Advil). While Tylenol helps reduce pain and is the safest medicine for older people or those with kidney disease, it does not lower inflammation.
Finally, if you do need an orthopedic implant in the future, take comfort in the fact that development of the next generation of devices is well underway. They will likely be biologic, composed of protein and cells instead of metal and plastic,…functioning as well as a normal joint and created to last a lifetime.
The post Joint Assets appeared first on Specialdocs Consultants.