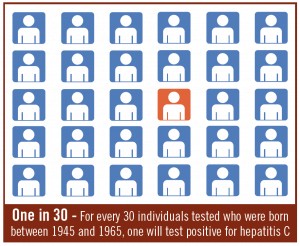 It's called 'the forgotten virus,' but after a sustained advertising campaign and years of strong recommendations for testing by the Centers for Disease Control it's almost certain that the liver-damaging Hepatitis C will be remembered…and for good reason. All people born between 1945 and 1965 – the Baby Boomer years – are now advised to take a screening test for Hepatitis C virus, the most common bloodborne infection in the United States. The reason? Boomers, born in a time before universal precautions and infection control guidelines were fully established, are five times more likely to have Hepatitis C than other adults, but not likely to be aware of it, as symptoms lay dormant for years. Testing was first recommended for all Boomers in 2013, but less than 15 percent of this at-risk generation have heeded the advice, which means many who are infected remain unaware they carry a potentially fatal but very curable virus.
Below we dispel some of the misperceptions and the breakthrough treatments available today. Most importantly, we explain why scheduling a blood screening is a vital act of prevention, and one we encourage every Baby Boomer to take.
What is hepatitis C?
The common, chronic bloodborne infection known as hepatitis C is caused by the hepatitis C virus, and is a major cause of liver disease.
How does it happen?
The virus causes an inflammation that triggers a slow cascade of damage in the liver, with hard strands of scar tissue replacing healthy liver cells. The liver is no longer able to effectively filter toxins or make the proteins the body needs to repair itself.
Why is testing critical?
Hepatitis C can hide in the body for decades without causing symptoms, while it attacks the liver. Since most people don't have warning signs of hepatitis C, they don't seek treatment until many years later, when the damage often is well underway. Left untreated, hepatitis C can result in cirrhosis or liver cancer, and is the leading indication for liver transplant in the U.S. If treated, however, the vast majority of patients can be cured within a few months.
Did You Know?
80% – Of the 3.2 million people affected by chronic hepatitis C, almost 80% were born during the baby boomer generation
10.5 million – Out of 76.2 million Baby Boomers, the number who have been tested for hepatitis C
Sources: American Journal of Preventive Medicine, Centers for Disease Control
Why are Baby Boomers at particularly high risk for hepatitis C?
Once thought of as a disease primarily of drug users, contracted from sharing of needles, hepatitis C can also be contracted through inadequate sterilization of medical equipment and the transfusion of unscreened blood. Boomers grew up before the hepatitis C virus was identified in 1979, so it's likely that many became infected through medical equipment or procedures before universal precautions and improved infection control techniques were adopted. Others may have been infected from contaminated blood before widespread screening nearly eliminated the virus from the blood supply by 1992.
What is the test for Hepatitis C?
A simple blood test for hepatitis C antibodies will indicate if you've been exposed to the virus at some point in your life. If you test positive, further testing will be done to determine if the virus remains in your body, how much is circulating and what specific strain or genotype you have. At least six strains of hepatitis C exist and treatment is based on the specific genotype. Other tests, including ultrasound, magnetic resonance imaging (MRI) and a liver biopsy can be performed to identify inflammation and see if any permanent scarring has taken place in the liver.
What treatments are available?
Today's regimens of direct acting oral antivirals stop the virus from reproducing and clear hepatitis C from the body in a matter of weeks. These breakthrough drugs, first made available in 2013, represent a tremendous step forward in treatment, with a success rate upwards of 95% in those infected with the hepatitis C virus. Medication is targeted to the specific genotype of the virus, and most patients experience few side effects – a vast improvement over previous options of pegylated interferon and ribavirin which caused uncomfortable side effects and were effective less than half the time.
The post Hepatitis C Testing Recommended for All Baby Boomers appeared first on Specialdocs Consultants.