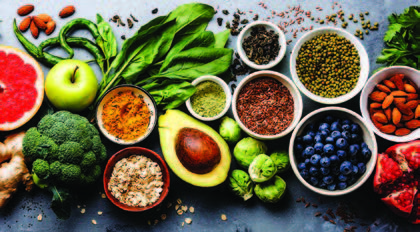 What Kind of Eater are You?
In the quest for a healthier lifestyle, even inveterate beef eaters may be considering a more vegetable-centric diet. If you're on a journey to vegetarianism or simply curious about the side roads surrounding it, follow our road map to nutritious eating with expert direction provided by Academy of Nutrition and Dietetics' Jen Bruning.
Flexitarian is a term recently coined to describe those who eat a mostly vegetarian diet with occasional forays into meat. "Flexitarian is probably the most relatable, allowing people to take a stepwise approach to less meat," says Bruning. "Instead of building a meal around beef, it becomes a side dish, ingredient, or is eliminated altogether." The flexibility is key to real life applications. "If you're at a barbecue you can enjoy without guilt."
Dietary notes: No real challenges in terms of meeting dietary needs – follow the traditional healthy 'plate' but place more emphasis on vegetables, and substitute beans and legumes for meat when possible.
Pescatarian refers to those who abstain from eating all meat and animal flesh with the exception of fish. It's becoming increasingly popular as a healthier way to eat or as a stepping stone to a fully vegetarian diet. "This can be a very balanced way of eating," confirms Bruning, "as fish are rich in protein and Omega-3 fatty acids." Some pescatarian diets include eggs and dairy.
Dietary notes: Avoid fish that contain higher amounts of mercury e.g. marlin, orange roughy, swordfish. Instead, opt for cod, tilapia, trout, canned light tuna, whitefish, salmon and sardines, among other choices.
Lacto-Ovo-Vegetarian is the more traditional vegetarian diet, eliminating beef, pork, poultry, fish, shellfish or animal flesh of any kind, but including eggs and dairy. It can be a nutritionally complete way of eating. Good sources of protein include legumes (lentils, beans, peas), soy-foods (tofu, tempeh, edamame), seitan, meat alternatives (veggie burgers, plant-based crumbles), milk, nuts, seeds, and grains (farro, millet, quinoa). Incorporate foods high in iron: dark leafy greens, beans, tofu, tempeh, black strap molasses, quinoa and tahini. Calcium requirements can be met with leafy green vegetables, tofu, and calcium-fortified products.
Dietary notes: Add vitamin C-rich food, such as tomatoes, bell peppers or citrus fruit, to increase iron absorption, such as beans in tomato sauce.
Vegans do not eat meat of any kind, or eggs, dairy products, honey or processed foods containing these or other animal-derived ingredients.
Dietary notes: To ensure adequate nutrition, incorporate the following foods or take a vitamin:
Vitamin B12 – fortified foods
Vitamin D – fortified orange juice or mushrooms treated with UV light
Iron – dark leafy greens and Vitamin C-rich foods to help with absorption
Calcium – kale and turnip greens
Omega-3 fatty acids – flax seed, chia, walnuts
Iodine – iodized salt or sea vegetables
Avoid the Raw Vegan/Raw Food diet, which is based on a nutritionally incorrect premise that cooking foods above 118 degrees F is harmful to the body.
The post Decoding Different Diets appeared first on Specialdocs Consultants.