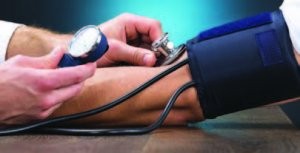 If you've ever wondered why a blood pressure check is part of almost every visit to a doctor's office, consider what is communicated through the familiar black cuff in just a few seconds. The force of blood pushing against the walls of the arteries as the heart pumps is a critical measure of how well your heart muscle works – systolic blood pressure (SBP, or the top number of a reading) measures the pressure in the arteries when the heart beats; diastolic blood pressure (DBP, or the bottom number) refers to the pressure in the arteries when the heart muscle is resting between beats and refilling with blood.
Readings that exceed the norm, hypertension or high blood pressure, indicate an increased risk of heart attack, stroke and kidney failure. However, exactly what constitutes 'normal' blood pressure for optimal health has been debated and tested for decades, and recommendations have fluctuated over time. While the gold standard is under 120 mm Hg/80 mm Hg, the targets for treating hypertension have varied over the years – less than 140/90 in the 1990s, down to 130/80 in 2003, raised to a controversial 150 or less in 2014, and retreating to less than 140 in 2015.
At the end of 2015, a landmark study of more than 9,300 patients, the Systolic Blood Pressure Intervention Trial (SPRINT), moved the needle down even further. Those who were treated most aggressively to drive down blood pressure to 120/80 experienced a significantly lower risk of cardiovascular events, chronic kidney disease, and death. In fact, the outcomes were so convincing that the trial was actually halted after just three years, much sooner than planned, leading the American Society of Hypertension to state: "The early termination of this trial represents an exciting moment in the history of hypertension treatment." Still, notes of caution were sounded because multiple medications were required, sometimes causing adverse side effects, and experts
agreed more study was needed to justify changes in clinical practice.  Additional evidence followed this year, with an analysis of adults aged 75 years and older who participated in the SPRINT study. The benefits of lowering blood pressure to 120 were even more pronounced, resulting in a one third reduction in risk of cardiovascular events and death, even among the frailest older patients. This finding could benefit almost six million seniors over 75 with elevated blood pressure, according to the Journal of the American College of Cardiology.
While the outcomes are promising, and point in an even more downward direction, experts have not yet reached a consensus on optimal blood pressure targets. For now, hypertension patients should consult with their doctor to determine whether this lower goal is best for their individual care.
Who's at risk? Virtually everyone
Even those who don't have high blood pressure by age 55 face a 90 percent chance of developing it during their lifetime, so learning how to identify, prevent and control hypertension can benefit us all.  Consider these best practices:
Identify.
Regular checkups are key, as people can live with high blood pressure for years without experiencing any symptoms while internal damage to other parts of the body may be silently occurring.
Prevent.
Keep a healthy weight: in an overweight person, every 2 pounds of weight lost can reduce SBP by 1 mm Hg.
Eat well: a diet rich in fruits, vegetables, and lowfat dairy products can reduce SBP by 8 to 14 mm Hg.
Limit sodium: (see Nutrition Corner, below)
Keep active: 30 minutes of aerobic activity most days of the week can reduce SBP by 4 to 9 mm Hg.
Moderate alcohol consumption: for women, a single drink a day may lower SBP by 2 to 4 mm Hg.
Quit smoking: not only does smoking raise your blood pressure temporarily, but the chemicals in tobacco can damage the lining of your artery walls.
Control.
If lifestyle measures alone are insufficient, your physician will determine the appropriate medication, which may include diuretics, beta-blockers or ACE inhibitors.
The post Bring It Down: Healthy Blood Pressure Numbers May Go Even Lower appeared first on Specialdocs Consultants.