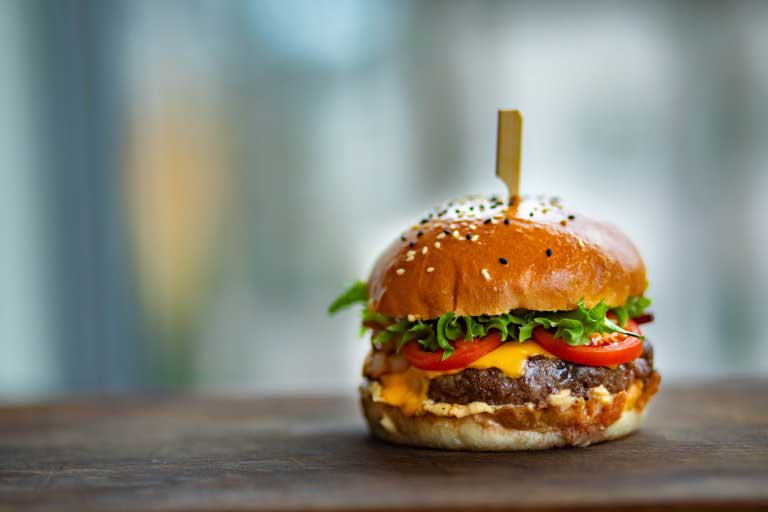 Examining Plant Based Burgers as Meat Alternatives
They're 2019's most sizzling success story, found everywhere from grocery freezer to fast food counter. Impossible Foods and Beyond Meat have brought plant based burgers from fringe to mainstream with remarkable rapidity. So quickly, in fact, that despite their ubiquity, questions abound regarding the burgers' benefits. What exactly are they made of? Are they flavorful? How do they compare nutritionally with a turkey patty or an all-beef quarter pounder? Are they meant for a healthy planet and a healthy body?
Both feature a lengthy list of ingredients that may seem far from natural, but both plant based burgers were formulated to recreate the meaty, juicy mouthfeel of a hamburger. That being said, hundreds of meat alternative taste tests and rave reviews have demonstrated that expectations have indeed, been exceeded.
Ironically, many vegans haven't embraced these plant-based burgers precisely because their taste, smell and texture evokes a beefy authenticity they've long eschewed.
What Goes Into Plant Based Burgers?
Impossible Burger is made primarily of soy protein concentrate, coconut and sunflower oil, binders, vitamins, minerals and the key ingredient – soy leghemoglobin, or "heme" – which makes the burger "bleed" and brown like meat. Beyond Burger, recently reconfigured to promise an even meatier flavor and chew, features an elaborate combination of plant proteins including pea and mung bean; fats for cooking sizzle, such as coconut oil and cocoa butter; minerals like calcium and iron; potato starch to bind; and beet juice extract for a beef-like red color in their plant based burgers.
Just the (nutritional) Facts!
Nutritional info for plant based burgers, paints a somewhat mixed picture. The good news is, the burgers contain approximately 20 grams of protein (equivalent to ground beef); a healthy mix of vitamins and minerals, including B vitamin, zinc and iron; and no cholesterol.
Interestingly, the plant based burgers may not be the best choice for people following a heart-healthy diet, as they are higher in saturated fat than turkey burgers and contain substantially more sodium than lean beef burgers. Moreover, you might consider creating your own vegetarian burger with beans, whole grains, herbs, seeds and nuts as a healthier option.
"These burgers offer good amounts of antioxidants and certain vitamins and minerals, but they aren't quite the same as a whole-foods veggie burger made from beans," explains Registered Dietitian Ginger Hultin, spokesperson for the Academy of Nutrition and Dietetics. "In order to mimic meat well, they use a blend of ingredients that includes saturated fat, similar to a beef burger, but from coconut oil."
So, what's the verdict?
"They're interesting, delicious products that can fit into a balanced diet, and have benefits in the form of supporting the environment and saving the lives of animals," she says.
| | | | | | |
| --- | --- | --- | --- | --- | --- |
|  4 oz. portion | Impossible Burger | Beyond Burger | 85% lean burger | 90% lean burger | Turkey burger |
| Total Fat | 14g | 18 g | 15 g | 10 g | 10 g |
| Sat. Fat | 8 g | 6 g | 6 g | 4 g | 3 g |
| Cholesterol | 0 mg | o mg | 88 mg | 65 mg | 92 mg |
| Sodium | 370 mg | 390 mg | 72 mg | 66 mg | 400 mg |
To sum up, supporting the environment and saving the lives of Animals is, in fact, the real fuel driving these companies, both of which are on a mission to reduce meat consumption and ensure a sustainable global food supply by giving people what they enjoy most – big, juicy (plant based) burgers.
The post Are Plant Based Burgers Really Healthier? appeared first on Specialdocs Consultants.